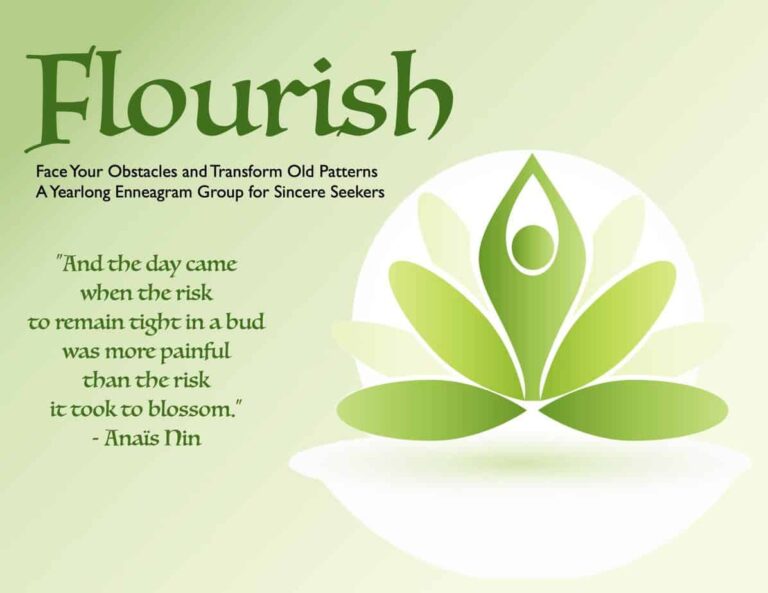 Face Your Obstacles and Transform Old Patterns 
An Enneagram Group for Sincere Seekers
"And the day came when the risk to remain tight in a bud was more painful than the risk it took to blossom."
– Anaïs Nin
Are you eager to step into the next season of your growth?  
Do you feel ready to make important changes, but struggle to do so on your own?
Are you willing to look with courage at what's in the way of your flourishing?
Would you benefit from high quality companions and expert guidance in facing your inner obstacles?
Are you sick of the limitations of your Enneagram style and ready to find more satisfying ways of thinking, relating and behaving?
Are you willing to show up for yourself as you move toward your full potential?
FLOURISH is a twelve-month journey designed to give you the support, guidance and structure to develop in key areas of your life and personality.  
Maybe the way you show up in relationships keeps confounding you.
Maybe your inner stories stop you from going for what you really want.
Maybe you keep reacting to situations in a contracted, limiting way.
FLOURISH is an intimate community of sincere seekers who not only want to up their own game, but are willing to be there for one another so we can all move toward our best selves.
If you love the wisdom of the Enneagram and are feeling ripe for integrating your insights into your daily life, this group will be a potent catalyst for your process.  Having its structure and connection to support your intention to grow will magnify what's possible and give traction in ways it's impossible to find alone.
As a members of FLOURISH, you will both learn deeply from others and receive individualized coaching and guidance for your unique path.  Expert guidance and community support will help you transform automatic patterns into more satisfying ways of living and relating.
In addition to personalized attention related to your personal goals, this community will offer you many experiential opportunities to challenge yourself to grow.  Opportunities to use and develop all three of your centers of intelligence:  body, heart and mind will be many.
Are you ready to give yourself this robust, high-quality support to transform your old patterns? 
Frequently Asked Questions
This group is for you if:
You want to learn to actively apply insights about your enneatype to your daily life
You understand the benefit of regular support and community in the growth process
Despite your good intentions, it's hard to break out of your trance or do something different
You feel your soul's potential, but find yourself repeating old patterns
You're willing to show up for the discomfort and mystery in the process of transformation
You have a solid understanding of the Enneagram and key aspects of your type
You're willing to take tolerable risks for the sake of growth
The status quo isn't cutting it anymore— life seems to be requiring your development
You want more than information and insight.  You want practices and experiences that help you do life differently.
You are willing to invest in learning to lean into your deep self.  You are ready to dig in, pay attention and give it your best
This group is NOT for you if:
You want to simply gather more content and insight about the Enneagram.

You will learn content, but the intent in this group is focused toward application and transformation

You want to stay aloof or entirely safe while learning in group

The nature of this work can include vulnerable and challenging moments.  That's often where the threshold of change is felt

You're new to the Enneagram and are happy to affirm your type identity in new ways

This group assumes that you're in touch with some of the ways in which your type causes you trouble or gets in the way of your full potential

You believe you can shift your experience of your enneatype on your own

There are lots of ways to learn on our own, but learning in community can catalyze potent and surprising changes.  

You're too busy to pay attention to your experience during the day

While there is not a steep time requirement, folks will benefit most from this group when committed to working with their themes between meetings.  Where attention goes, energy follows.
To apply for Flourish, email [email protected] to set up a time to discuss your fit for the group.
No payment required until you are accepted.
Note: This program is currently underway; please get in touch to get on the list to be informed of future opportunities.