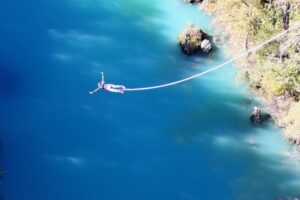 Navel Gazing and Bungee Jumping
Does the idea of skydiving, ice climbing, or drag racing intimidate you? Or thrill you? Or both?
Do you dread the thought of heading into the wilderness of your emotions and sensations? Or do you long to immerse yourself in them? Or both?
It could be said that we humans are organized by fear. Fear compels us to great achievement, preparation, and avoidance. In the face of feeling our helplessness or insignificance, it is natural to want to change our experience of fear through distraction, pursuit, numbing out, combat, or escape.
Different Enneagram types will be able to recognize this more or less directly, but each of our inner platforms is structured to have us not feel our particular dreaded feeling and to experience ourselves in a particular way. We each have a core fear. Type Four, for example, feels "allergic" to experiencing the self as ordinary or mundane; at Four, I am reassured when I experience myself as unique, significant, or unusual.
Biologically, emotionally, mentally, relationally, culturally, and existentially we can rack up whole piles of fears. And by habitually trying to override or avoid our fears, most of us don't realize the weight we are constantly carrying. Or the gold mine we're pushing away. Continue reading "Inner Work as an Extreme Sport" →