Walk The Path - Online Enneagram Group
Are you someone who understands the power of the Enneagram's insights and would like support in applying this wisdom in your daily life? 
Most of us who love the Enneagram feel its potential to wake us up from our ordinary trances or our "default mode" of approaching life.  Yet, left to our own devices, we find ourselves continuing to react and respond in ways we know are not particularly effective.  
We all need help in freeing ourselves from the ordinary perspectives and reactivity that our type structure keeps conjuring in us.  One of the most potent ways to learn to do things differently is to have quality companions journeying with us who have the same wish.  Another is to have accessible practices.
In this group we can share our breakthroughs, our obstacles and our different approaches.  We can sympathize with everyone's difficulty in staying awake. And we can serve as mirrors, supports and counter-points-of-view to expand our sense of what's possible.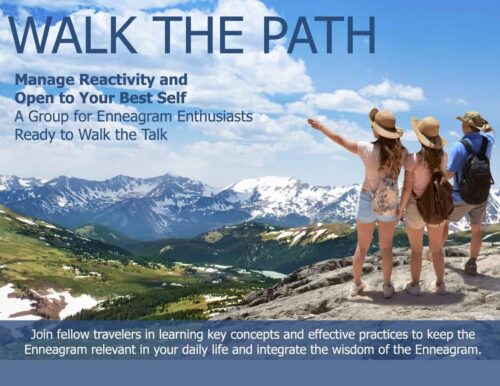 We don't usually loosen the grip of our type by ourselves. And we certainly can't transform our deep structure in an instant or in a vacuum. Let's join together and help you understand your habitual lens and how to open to new ways of responding in your life.
To actively engage your learning on this path of great insight and possibility, the Enneagram Exploration Group will give you access to:
Expert guidance
Meaningful community and
Practical approaches


Are you ready to take your Enneagram integration to the next level? Join with this group of sincere fellow travelers and learn how to open to new ways of responding in your everyday life!
The Enneagram Exploration Group is about application and integration, so it will not be primarily focused on teaching curriculum. However content discussions will arise at times as they relate to applying our insights in our lives.
Meetings will include elements of the following:
Practices that will support your full potential
Individual reflections and sharing
Group discussion, questions and coaching
Learning activities- individually and with partners
This group is intended for folks who have a good, basic foundation in understanding the Enneagram, so it is not intended for beginners. If you have a question about whether your level learning is sufficient, please email me at [email protected]
Registration is limited to 10-12 participants to allow for good group dynamics and individual engagement.
Please register below soon to secure your spot!
Note: This program is currently underway; please get in touch to get on the list to be informed of future opportunities.