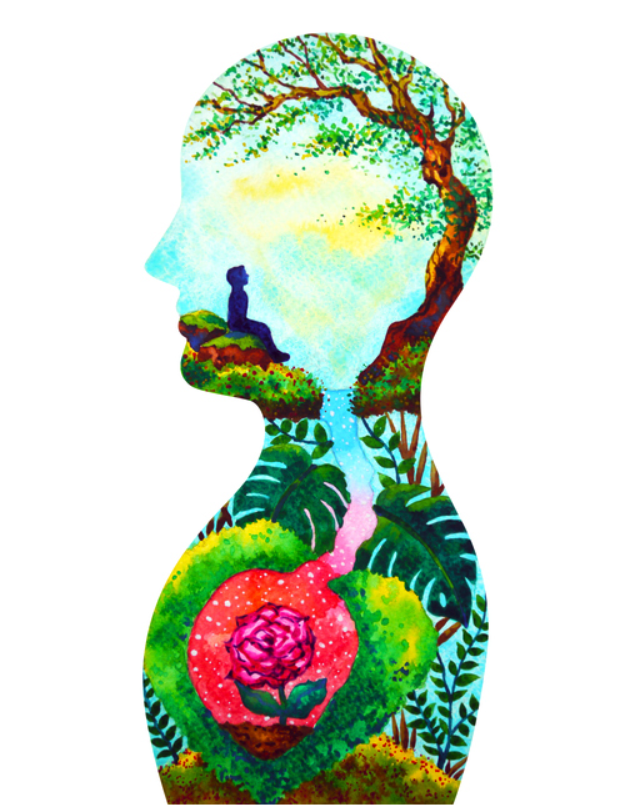 Cultivating Emotional Wisdom with the Enneagram
Your relationship with your own emotions determines almost every moment of the quality of your life.  
Inner emotional territory can be intense, vulnerable, or even overwhelming, and yet we typically find ourselves coping the way that we did when we were children. It doesn't have to stay this way.
Are you ready to level-up?  
Would you like to be able to meet what arises and help it flow?
Emotions are essential for our well-being, however most of us struggle to effectively be with and work with our aversive emotions (sadness, fear, anger). We may over-identify with our feelings, or we may try to get away from them as quickly as possible. This has us miss out on their transformative potential. 
DEEPLY HUMAN is a 12-month journey in which you'll learn practices to host your emotions consciously— with respect and care, but not indulgence. 
Using our three centers, we will learn to reach beyond our usual strategies to experience ourselves in fresh, generative ways! 
Have your emotions instead of letting them have you!
In this year-long intensive, you will:
Find the sweet spot of engaging emotions without bypass or overwhelm 

Discern the difference between real and "racket" emotions

Navigate difficult emotions from an objective and compassionate stance 

Understand obstacles to wholehearted living, and how to work with them

Transform emotional reactivity into clarity and healing 

Turn toward the parts of you that drive ineffective patterns so they can finally get what they need

Learn to intentionally contain energy, and to move energy so you're not tossed about on the waves

Collect practices that you can use in daily life when the heat is on

Let your heart's wisdom take its rightful place of leadership in your life

DEEPLY HUMAN is a course, a community, and a place where you can get the support and structure to do things that can be hard to do on your own. With fellow travelers, it can be easier to find the courage to engage with our difficult emotions.
This experience is not a casual online course focused on information. Its aim is supporting your transformation.  There is an expectation that you will aim to bring your best to yourself and others so you can get the very most out of the process.  This will be necessary for all participants so that there is enough safety and holding to facilitate our growth.
When we learn skillful ways to allow our emotions to move and point us toward what is most wanted and most meaningful, all kinds of things in our lives begin to transform.  
When we align with our deepest truth, our relationship with ourselves and with others can find new pathways, new hope where we used to feel dead ends.
PROGRAM
We will have three one-hour meetings per month on Zoom, each with a main focus:
Learning content

and applying it with exercises 

Integration of content

, including Q&A, discussion and breakouts 

Intensive application

– two people have the "hot seat" and work directly with Sarah.  Others witness and track their individual themes and intentions for practicing.
Meetings may also include meditations, guided practice, partner exercises, etc.
In addition, each month you will:
Receive one

additional teaching

(video, audio, written) from Sarah 

Meet with your learning partner

at least twice (typically 30-60 mins)

Engage in

community sharing/discussion

(you will lead this at least one month)

Sarah will join you and your learning partner on Zoom to discuss your journey with one another once during the cycle.
Time commitment will be a minimum of about 2-3 hours per week. 
Our weeks will generally flow as follows:
A – Meeting with Sarah for teaching, exercises, deepening opportunities. 
     Daily application/practice on your own
B – Additional teaching from Sarah supporting your practice
     Meet with learning partner to apply learning and practice skills 
     Daily application/practice on your own
C – Meeting with Sarah for Q&A, integration and application of learning  
     Daily application/practice on your own
D – Meeting with Sarah for intensive, guided exploration (hot seats)
     Meet with learning partner to apply learning and practice skills
     Daily application/practice on your own
Group size will be limited for the best learning environment.  
Three Tuesdays per month 4-5pm Pacific Time
Twelve months – June 2023 to May 2024
$2400 (your monthly cost = a bit more than 1 therapy session per month)
Planned dates
:
June 6, 13 &20
June 27, July 11 & 18 (due to July 4 holiday)
August 1, 8 & 15
September 5, 12 & 26
October 3, 10 & 17
November 7, 14 & 21
December 5, 12 & 19
January 9, 16 & 23
February 6, 13 & 27
March 5, 12 & 19
April 2, 9 & 16
May 7, 14 & 21
You will be given as much notice as possible if dates need to change.
Monthly payment plan available if needed.
Possible in-person retreat(s) may be added if there is enough interest for additional cost.
Frequently Asked Questions About Deeply Human
Email me at [email protected] with your interest and I will send you application information.
No payment is required until you are accepted.